Updated 4-2011
I was wondering how big your house is and how you have the children arranged? How many bedrooms and how many in each room, etc.? How you organize their bedrooms and clothes and such? ~ Alicia
I'm sure that two extremes come to mind when picturing a house filled with 9 children, 2 adults, 1 dog and a frog (yes, a frog). The first extreme would be to picture 11 of us crammed into a shack in someone else's backyard. The second extreme would be that we are so filthy-rich that we live in a 10,000 sq. ft. mansion. After all, how can anyone have 9 kids and live in anything much smaller? LOL! Now, I do consider my home to be quite comfy and nice, but it is no gargantuan mansion. Neither is it a cardboard shack. It's perfect for our 9 children and for any other children that God sends! It's

HOME

!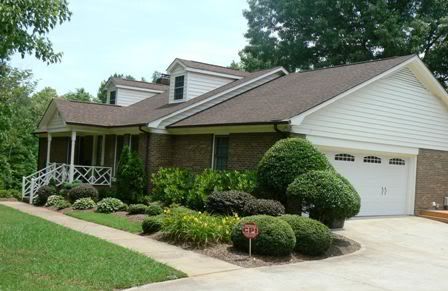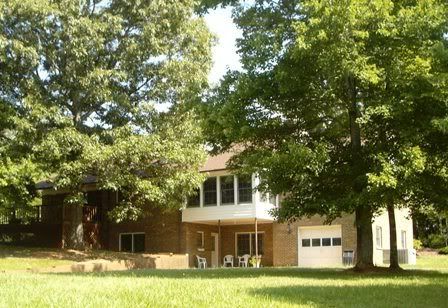 Our home is 4000 square feet on 4 acres in a suburb of Charlotte, NC. Since our home is three levels, it is divided rather differently. When we moved in, the house was very much dated (1980's) and needed a good dose of T.L.C. It had a mostly unfinished, walk-out basement with two bedrooms and a bath. Total renovation had to be done to the basement upon move-in just to make it livable down there. The main level has the master bedroom and another bedroom, as well as all the usual living spaces. We made plans to make the walk-up attic two additional bedrooms, but that didn't happen for another 3 years. Since we only had 3 children when we moved here, we didn't need any more than the 4 bedrooms at that time anyway.

Well, 6 children and almost 7 years after moving in, this is how we have our house situated for all the kiddos. The finished attic is beautiful! It's "Perfectly-Prissy-Pepto-Pink" with white built-ins and window seats. You can guess whose domain that is! That's right…Annalise (18), Kaitlyn (11), Julia (5) and Ellie (3). The room is one large room, divided into two. The three older girls live on one side of the stairwell with two canopy beds and a trundle (another trundle will be addedwhen Ellie outgrows her bed) and Ellie sleeps on the other side in a toddler bed. Right now we have room for another girl's bed/crib on that side, for when Eva moves up there and there will be room for two on that side when Ellie moves to the second trundle bed! There is also one rocker, one dresser and a mirrored chest in their rooms. Their closet, which spans the length of the garage (couldn't be used in any other way) is their humongous closet! We store Mommy & Daddy's out of season clothing in there, as well as, coats during the summer, sheets, towels, sleeping bags, sewing supplies, doll necessities, etc. It's the perfect closet for girls!

The boys' territory is in the walk-out basement (can't you hear the creepy music now?)! No, seriously, the basement is really cool! There's a playroom/game room/former school room (now we do school around the kitchen table), a full bath and two bedrooms. Each of the 2 bedrooms has two closets. The boys' room is home to Ethan (10), Trey (9), and Jake (6) has two sets of bunk beds and all three boys sleep in there. For now, Judah (2) sleeps with Ethan, who has moved to provide him with company, in the extra/guest bedroom. Ethan sleeps on a twin bed and Judah is still in a crib. Judah will someday SOON move to the empty bunk, but for now he's in the crib in the guest room. The two closets in the boys' room are rather tiny. They store the older boys' clothing, as well as out-of season clothes that are stored in Rubbermaid containers for easy access. Across the hall is the "guest room", which is where Ethan and Judah are for now. The closets in that room have shelves for towels, sheets, presents (our gift closet), swimming gear, games, etc. Like I said, this bedroom can be used for guests, as it boasts the most privacy, BUT it only has a single twin bed and a shelf.
Eva (2 months) sleeps in a pack 'n play basinet in our room for now, but will move to the nursery, which is located across from the master bedroom in a few months or so.
Clothing storage and organization is so much fun around here! Okay, I lied. It's a big hassle when it's time to switch our seasonal clothes. We have tons of great attic space in the girls' room, so we store all of the clothing up there that waits making its rounds again on the children who will wear them someday. Each clothing size is stored in Rubbermaids for future use. Storing hand-me-down clothing has saved us SO MUCH money. If you have the room available and have (or might have) children to pass those clothes down to, store them! Just do it in Rubbermaids, unless you enjoy little critters in those bins! You can stock up on Rubbermaid containers at discount stores or when they have specials on the end caps at Wal-Mart. It's about $4 for an 18 gallon if you can get a deal.

I also leave one empty container per child in the attic so that we can quickly declutter their closets throughout the season, should they grow out of clothing mid-season. This helps to keep the clutter down in their closets, as we seem to have most our children grow out of items before the next season rolls around.

Now, living in Charlotte really makes it hard to assess

when

to bring out the clothing for the next season. Our weather goes back and forth quite irregularly for quite some time. So, to solve that problem, I keep one Rubbermaid per child in his/her closet full of what might fit them the next season. Everything that they've grown out of goes up to the attic Rubbermaids for passing on to another sibling at the end of the season. Having this convenient access to these out-of-season items makes it a bit easier with our crazy weather here!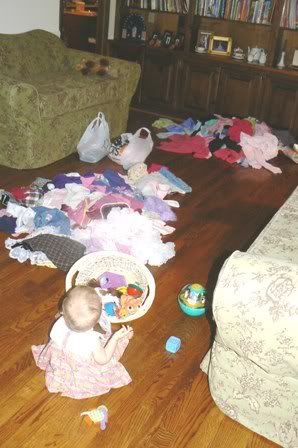 Every spring/fall, right before the area consignment sales, we set aside a day for girls' clothing and a day for the boys' clothing to be sorted (see above: this is just 1/9th of the mess from sorting clothes for the following season). We bring down the bins to our den and fish through all the clothes that have been passed down. A list is made of items that are needed (let's just face it…jeans, socks and such do not pass down to the next child without a good many holes!). All other clothing that works for that upcoming season is brought out to be washed and put away in their closets. This takes a good long while to complete, but it saves so much money that I can't resist!
So, there ya have it! Please post a comment with other questions regarding this topic or other topics relating to large families. Hey, if you have tips that have worked for you, pass those along, as well…I'm all about tips on making life with a large family easier!